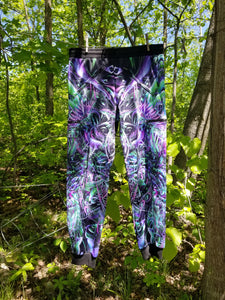 Hypnagogia Joggers
Regular price $90.00 Sale
"Hypnagogia" Joggers made in collaboration with Many Visions
Joggers include 5 zipper pockets, 1 open leg pocket and one secret pocket.
100% Polyester, from recycled water bottles~soft inside
Our pruducts will never shrink or fade, please wash in warm water and hang dry to keep the best qaulity, fabric softner always helps.
SIZE: "True to Size"~ (It is recommended to size up)
Small- 28 Waist by 39 Length
Medium- 30 Waist by 41 Length 
Large- 32 Waist by 43 Length
XLarge- 36 Waist by 45 Length
XXLarge- 38 Waist by 47 Length
XXXLarge-40 Waist by 49 Length
XXXX-Large
Please contact us if you have any questions!